CHECK OUT THIS UPCOMING EVENT:
Here is an incredible event we're partnering with that features some of the biggest names in tech, media, film and entertainment, the B.I.G. Summit featuring keynote by former Facebook head of marketing Randi Zuckerburg. We have a special promo code for you to get an incredible rate into the event, $99.00.

You can not beat this for an amazing event you won't want to miss if you're in any industry that has to do with the tech, media, film, television or entertainment industry. Cutting edge tech, virtual reality, panels, one on one sessions, networking, the B.I.G. Summit has it all.

For more info on the Summit and to purchase tickets go to: https://bigsummit.biz/events/big-summit-2015/
and enter the below promo code below.

Or go here for a direct link: http://us8.campaign-archive2.com/?u=b037255ff4f590959be0b34fe&id=c8d5e9ca6e&e

We'll see you there!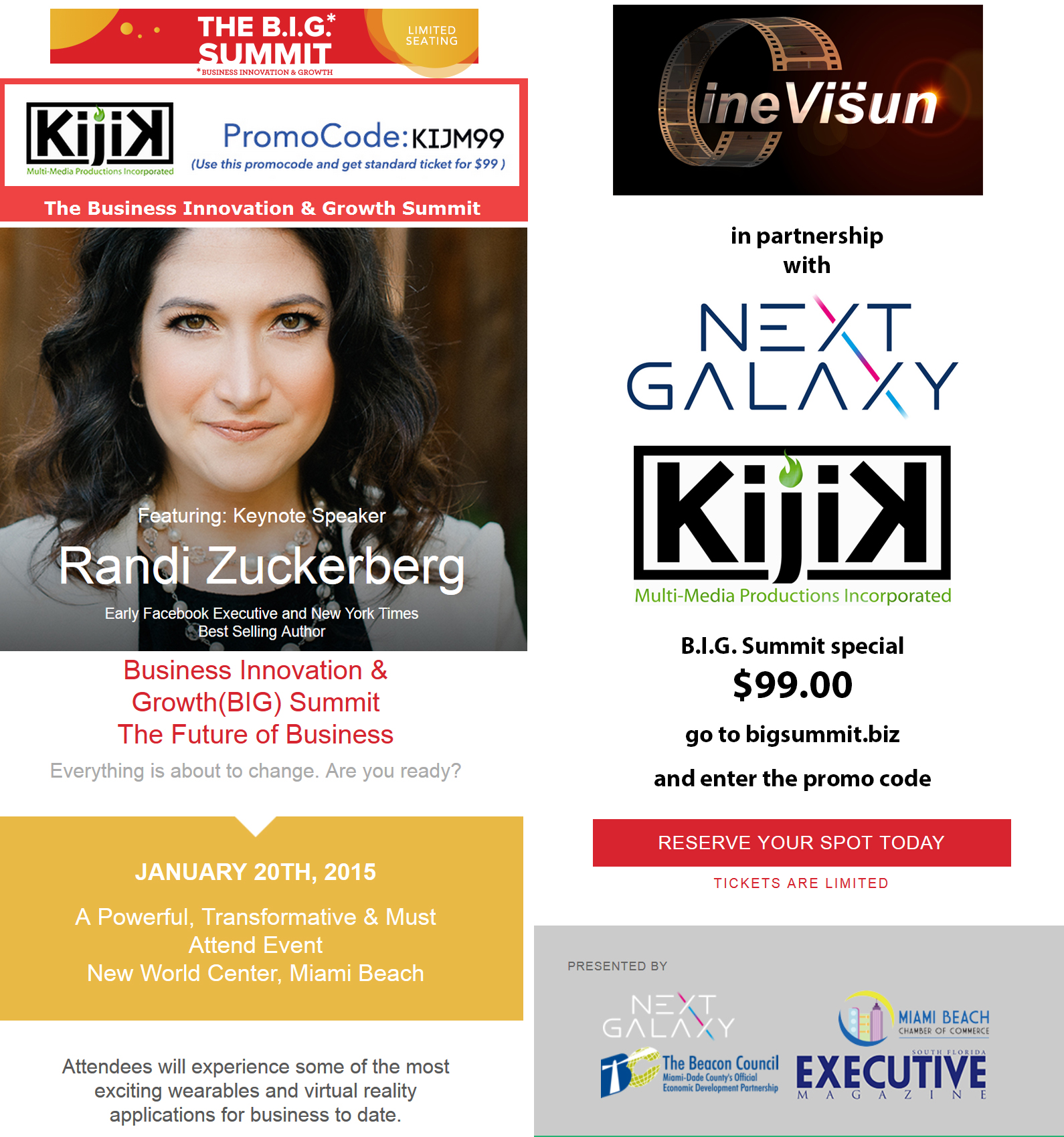 ---
cine
adjective chiefly Brit.
• cinematographic : a cine camera.

vision
noun
• the ability to think about or plan the future with imagination or wisdom

sun
noun
• poetic/literary - a person or thing regarded as a source of glory or inspiration or understanding

CineViSun |ˈsinēˈvi zh ən |
noun
• representing the vision of the independent film community in South Florida

An independent film group dedicated to the further advancement and unity of South Florida's independent film community.

Developed for filmmakers by filmmakers with the sole purpose of placing, developing and advancing South Florida on the independent film map.
Cinevisun ventures to serve the South Florida Film community above and beyond the scope of traditional local and state film commissions and governmental entities and to serve as an advisory voice of the independent filmmaking community. Vital to the organization mission is to create a central platform and sphere of influence with the sole objective of promoting, facilitating and furthering the vitality of South Florida as a key film production center between the creative and the business of filmmaking. Cinevisun is an open platform whereby it participates and communicates with local, state and private organizations as a representative of South Florida filmmakers in all industry related activities and promotions.